award & nomination for student films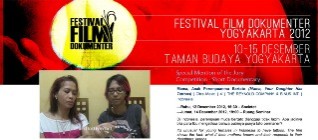 Mama Anak Perempuanmu Bertato" (Mom, Your Daughter Has Tatoos) won  Special Jury's Mention award for Short Documentary category in Yogyakarta Documentary Film Festival, Yogyakarta, December 2012.
Meanwhile, Candra Aditya's documentary "@l4y: According to Alay" selected as nomination in the same category and the same festival.
The festival and competition is open for public and professional in Indonesia.