5 nominations of student films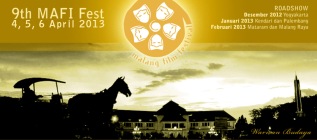 2 short fiction films and 3 short documentaries from Binus students are nominated in Malang Film Festival 2013. Bunglon (Angkasa Ramadhan, film 2014), Yuki (Citra Melati, film 2014) are competing with 8 other fiction films, while @l4y: According to Alay (Candra Aditya, film2014), Figuran (Extras, Vania Ivena, film 2015), and Boys on Boys (Charlotte Cynthia Wijaya, film 2015) are competing with 2 other documentaries.
Malang Film Festival is a festival specialized for students.