Film Masterclass with Serunya at Binus Film Program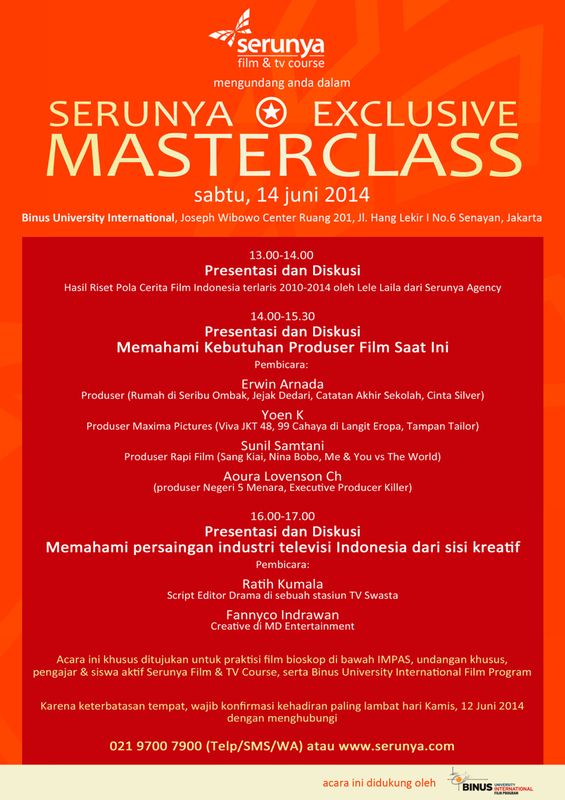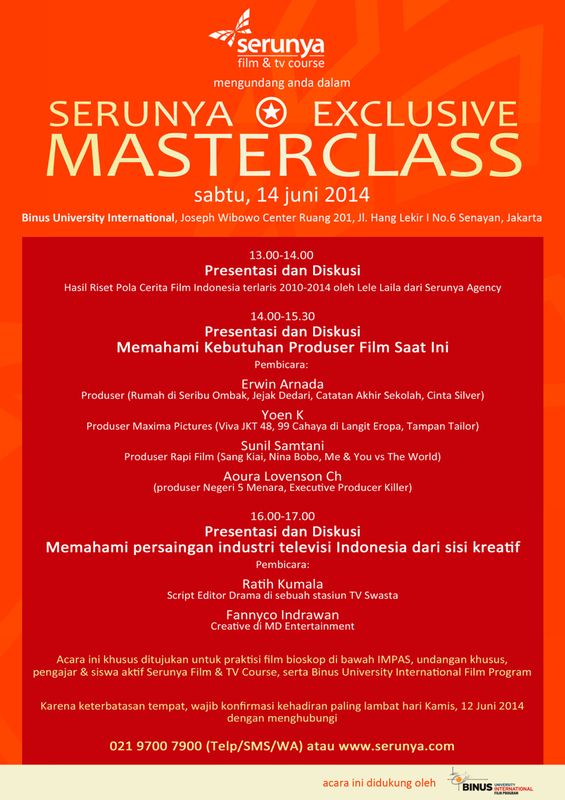 BINUS International  in corporation with Serunya Film & TVCourse held an event called Serunya Exclusive Masterclass on Saturday, June 14th, 2014 at 12:00 to 18:00. The event consisted of a presentation and discussion on the results of the research on the patterns of stories of the best-selling Indonesian Films in 2010-2014, followed by a discussion about the needs of TV and Film producer in Indonesia.
This event featured speakers from the Indonesia's leading film & TV practitioners, including:
– Erwin Arnada (producer of Jejak Dedari, Rumah di Seribu Ombak, Catatan Akhir Sekolah, Cinta Silver)
-Yoen K, Producer at Maxima Pictures (Viva JKT 48, 99 Cahaya di Langit Eropa, Tampan Tailor)
-Sunil Samtani, Producer at Rapi Films (Sang Kiai, Nina Bobo, Me & You vs The World)
-Aoura Lovenson Chandra, Producer at Million Pictures (The Killers, Negeri 5 Menara)
-Ratih Kumala (Script Editor Coordinator for TransTV Drama Division)
-Fannyco Indrawan (MD Entertainment Creative Division)
Not only BINUS Film students, there were also film professionals that come to the event as participants.