Song of Tibet (2000) Screening and Masterclass by Professor Xie Fei from Beijing Film Academy
Professor Xie Fei is one of the earliest generation of Chinese filmmakers who has gained global  recognition and the leading figure of fourth generation filmmakers in China. This film screening and masterclass by Professor Xie will provide a good opportunity for Indonesian film enthusiasts and filmmakers to have a close encounter with this film master and the Chinese films in general. It is also part of the the start-up program for Indonesia-China Film and Culture Exchange Series organized by Red and White China.
The event will be held on 24 May 2016, 08:30-13:00, at BINUS University International campus, FX Sudirman, 6th fl, room 602, Jl. Jenderal Sudirman, Pintu Satu Senayan,
Jakarta 10270. The film screened for the opening is Song of Tibet, directed by Xie Fei in 2000.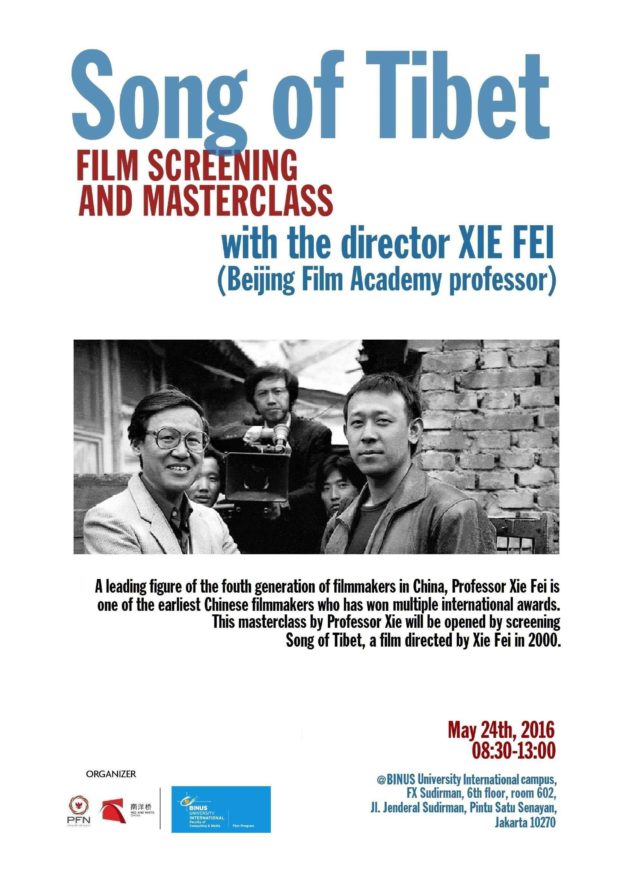 Synopsis:
Song of Tibet tells a story about a Tibetan woman, Yixizhuoma, and her turbulent marriage to Jiacuo, across half a century. Now in her seventies and with Jiacuo dying from lung cancer, Yixizhuoma recalls her story in flashback when visited by her granddaughter from Beijing: how Jiacuo kidnapped her as a young woman, how they fell in love on the flowery plains, how she was separated from her family in the stormy late 1950s, and how she finally found Jiacuo in the mountains in the early 1970s.