Rethinking Southeast Asian Cinema Studies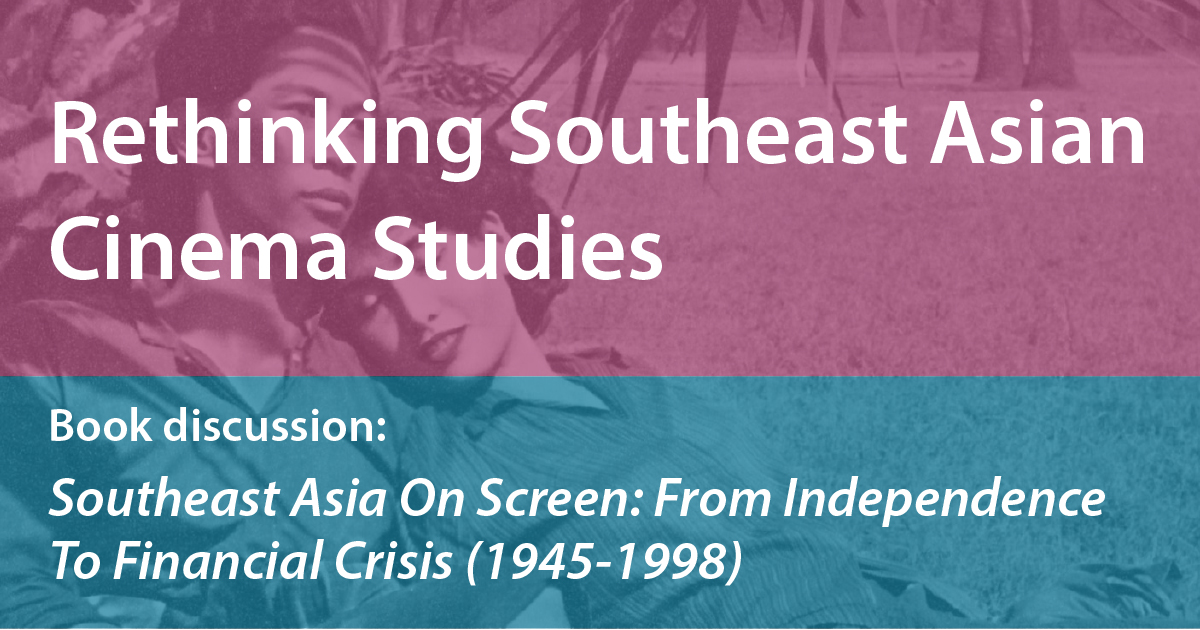 Film Department Binus University Presents 1st Academic Series
Rethinking Southeast Asian Cinema Studies
Book discussion: Southeast Asia On Screen: From Independence to Financial Crisis (1945-1998) (Edited by Gaik Cheng Khoo, Thomas Barker, Mary Ainsley, Amsterdam University Press, 2020)
Wednesday, 21 October 2020, 13.00-15.00 WIB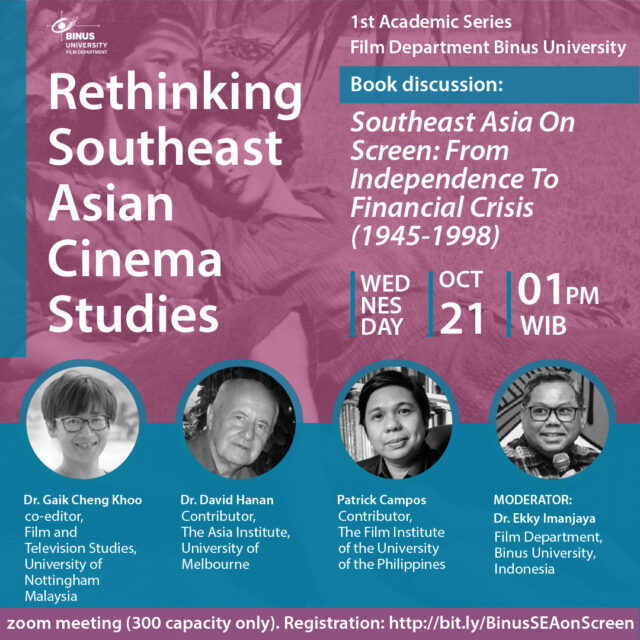 The global success and prominence of award-winning Southeast Asian filmmakers and auteurs— Apichatpong Weerasethakul, Lav Diaz, Rithy Panh, Anthony Chen, and Garin Nugroho, for examples-has opened local and international interests to explore more about the field. However, compared to South Asia and East Asian Cinema Studies, the field of Southeast Asian Cinema studies is still overlooked by many film scholars in global film studies contexts.
It is important to note that, of course, there are scholarly works being published on the topic. The most recent one is "Southeast Asia On Screen: From Independence to Financial Crisis (1945-1998)" (Edited by Gaik Cheng Khoo, Thomas Barker, Mary Ainsley, Amsterdam University Press, 2020)
The event will discuss the book, and generally on the Southeast Asian Cinema Studies with co-editor Dr Gaik Cheng Khoo and contributors Dr. David Hanan and Patrick Campos.
The 2-hour online discussion will explore on the importance and the lack of SEA Cinema Studies, commonalities among the various national cinemas, and revisiting key points and milestones in Southeast Asia.
The event is open to public. Free of charge. First come first served.
Registration: http://bit.ly/BinusSEAonScreen
Binusians will get SAT Points
Follow us:
IG: @binusfilm YouTube: "Binus Film"
Twitter: @BinusFilm Website: https://film.binus.ac.id/
Get 40% book discount if you purchase from www.aup.nl with code "SEASCREEN (Valid until 15/11)